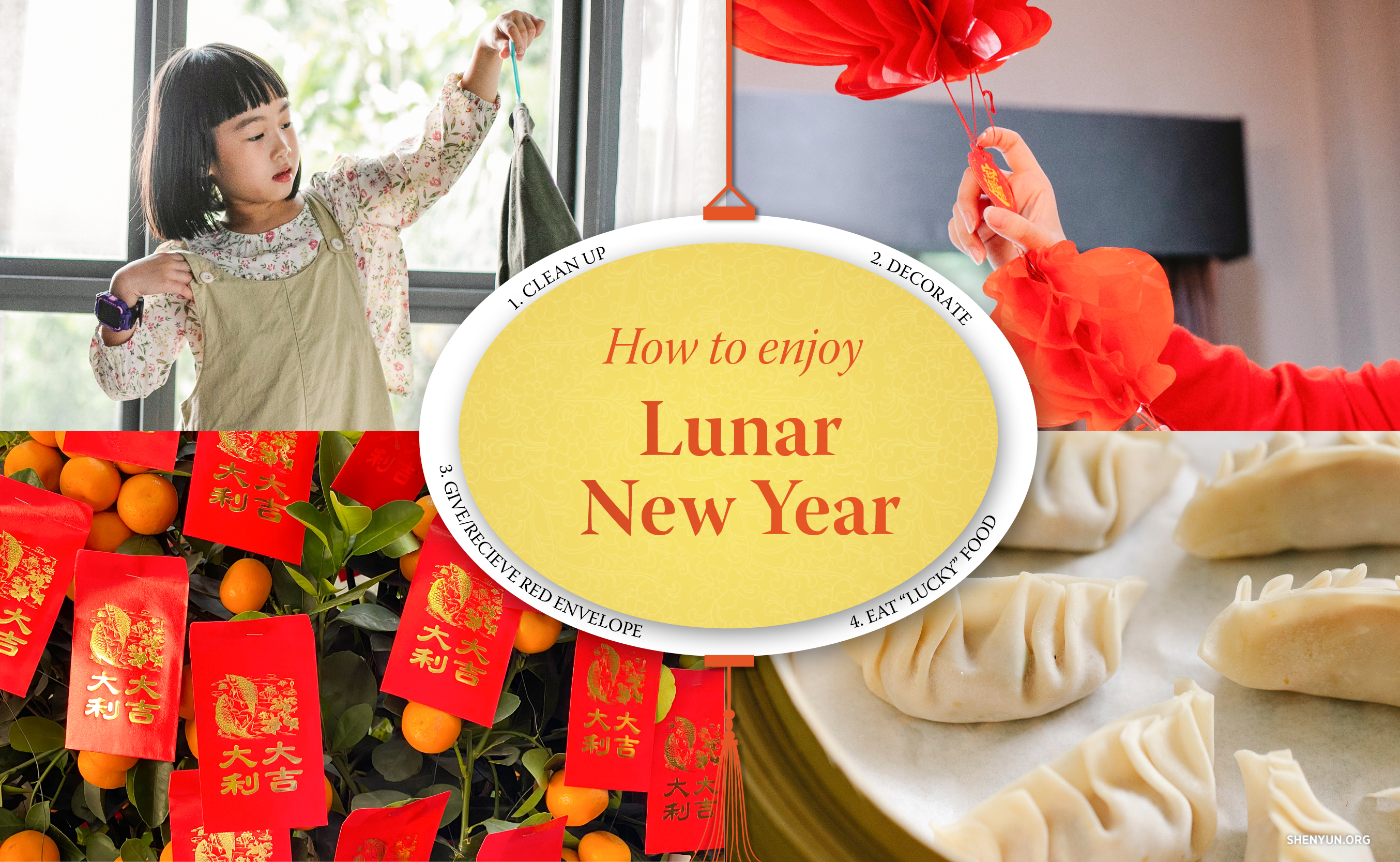 How To Enjoy the Lunar New Year at Home
HAND OUT THE RED ENVELOPES, SWEEP THE FLOOR, BUT WHATEVER YOU DO, DON'T FLIP THE FISH!
The Lunar New Year, or Chinese New Year, is not only the longest Chinese holiday—it's a full 15 days!—but it is also the most important. It's a time for cleaning and celebration, new clothes and new beginnings. Thanks to the lunar calendar, it falls on different dates every year, somewhere in January or February.
This year, the Lunar New Year begins Jan. 22. Traditionally, this is a time for honoring deities as well as ancestors, and for observing unique rules. Here are a few that you can join in on, and be part of one of the world's most popular holidays, right in your own home (or apartment, or dorm, as the case may be):
Rule #1: Clean Up
The New Year is a time for new beginnings, and everyone likes to start off fresh. So the nine days before the new year are reserved for a massive top-to-bottom cleaning of the house. Now, before you belittle this form of celebration, you should know that brooms sweep out not only dust, but also bad luck. It's important to work from the corners to the center of the room, then toss the misfortune out via the back door. On New Year's Day, though, the brooms and dustpans are carefully left untouched so the freshly arrived good luck can stay in the house and not be swept out by mistake. It's true—cleaning on New Year's day is a big no-no.
Rule #2: Hand Out Red Envelopes
Are you married or are a grandparent? If yes, get your wallet ready. During the Chinese New Year, couples and grandparents have the traditional pleasure of handing little red envelopes filled with money to single people (mostly children). It was believed that such "lucky money" would bring children good fortune in the coming year, while protecting them from evil. For maximal luck, it's recommend sleeping with the envelope under your pillow for seven days before finally opening it.
But you can't give any amount. More than generosity, it's important to give money in even amounts. Chinese especially like eight and its variations. Why eight? Because in Chinese the word for eight (ba in Mandarin, and especially fa in Cantonese) sounds like the word for prosperity (fa). Avoid giving out odd-numbered gifts of money at all costs—those are usually reserved for funerals!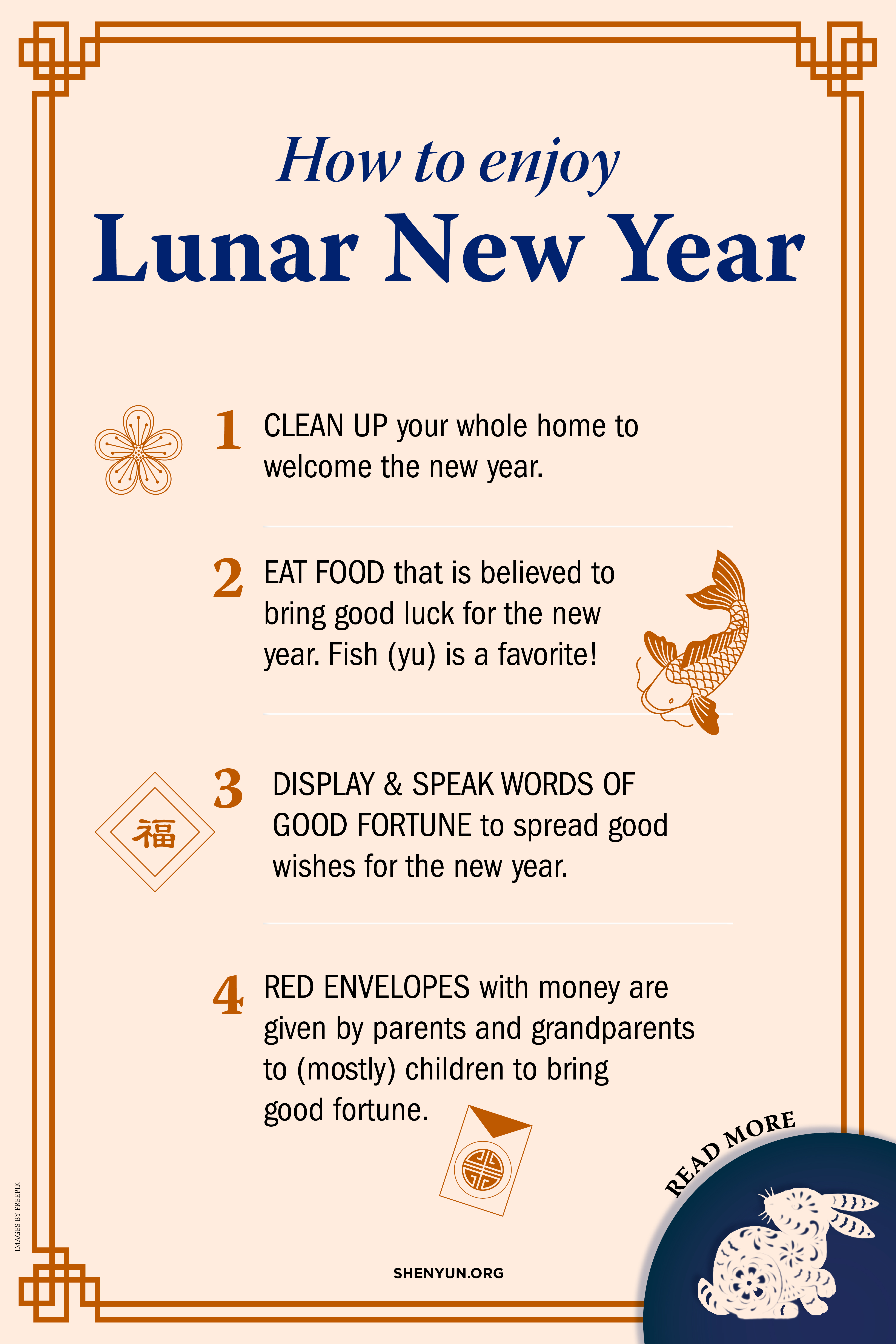 Rule #3: Display & Speak Words of Good Fortune
Another traditional Chinese custom is to hang phrases—spreading good wishes for the coming year to all—on and around windows and doors. You may have seen red-colored paper with gold or black lettering (characters) on them at this time of year. Well, those aren't just decorations—they carry positive messages.
One favorite is the character for Spring, to commemorate the coming of Spring. Yes, although the Lunar New Year is in winter, it does mark Spring's not-too-distant arrival. In China, it is called the Spring Festival for this reason. Characters for "good fortune," "happiness," "health," and "longevity" are some other popular ones.
Certain phrases are said among family and friends, too, such as "wan shi ru yi," which roughly translates as, "may all good things come your way" or "may all your wishes come true."
Rule #4: Eat Well, But Don't Flip Your Fish!
Like Christmas or Thanksgiving dinners, the Chinese New Year's Eve dinner is a veritable feast of fantastic food, celebrating the family's reunion. Menus differ based on geographic location, but fish is a regular favorite. Why? Because, of course, the Chinese word for fish, yu, is a homophone (sounds exactly the same as) abundance.
In Chinese cuisine, fish is often served whole on a plate, and eaten one side at a time. After the top half is eaten, the spine should be removed rather than flipping the fish, to prevent turning your surplus upside down into a deficit.
Other popular foods:
- Dumplings, especially in northern China, where the dough is kneaded to resemble gold ingots.
- Mandarin oranges, as the character for orange, ju, sounds like ji (lucky).
- Melon and sunflower seeds, symbolizing fertility.
- Niangao, also known as New Year cake, is popular in eastern China. A sticky, chewy condition of glutinous rice flour that is a homophone of "fortunate year."
All in all, the New Year celebration is a time for families to enjoy each other's company and have high hopes for the year ahead. So, if you want to join the Lunar New Year party, pick up the phone and call your mom, your grandma, your son, your third cousin—someone—and wish them a happy New Year!
From all of us here at Shen Yun: may your nian be full of fa and yu and ji, and of course, health and happiness!