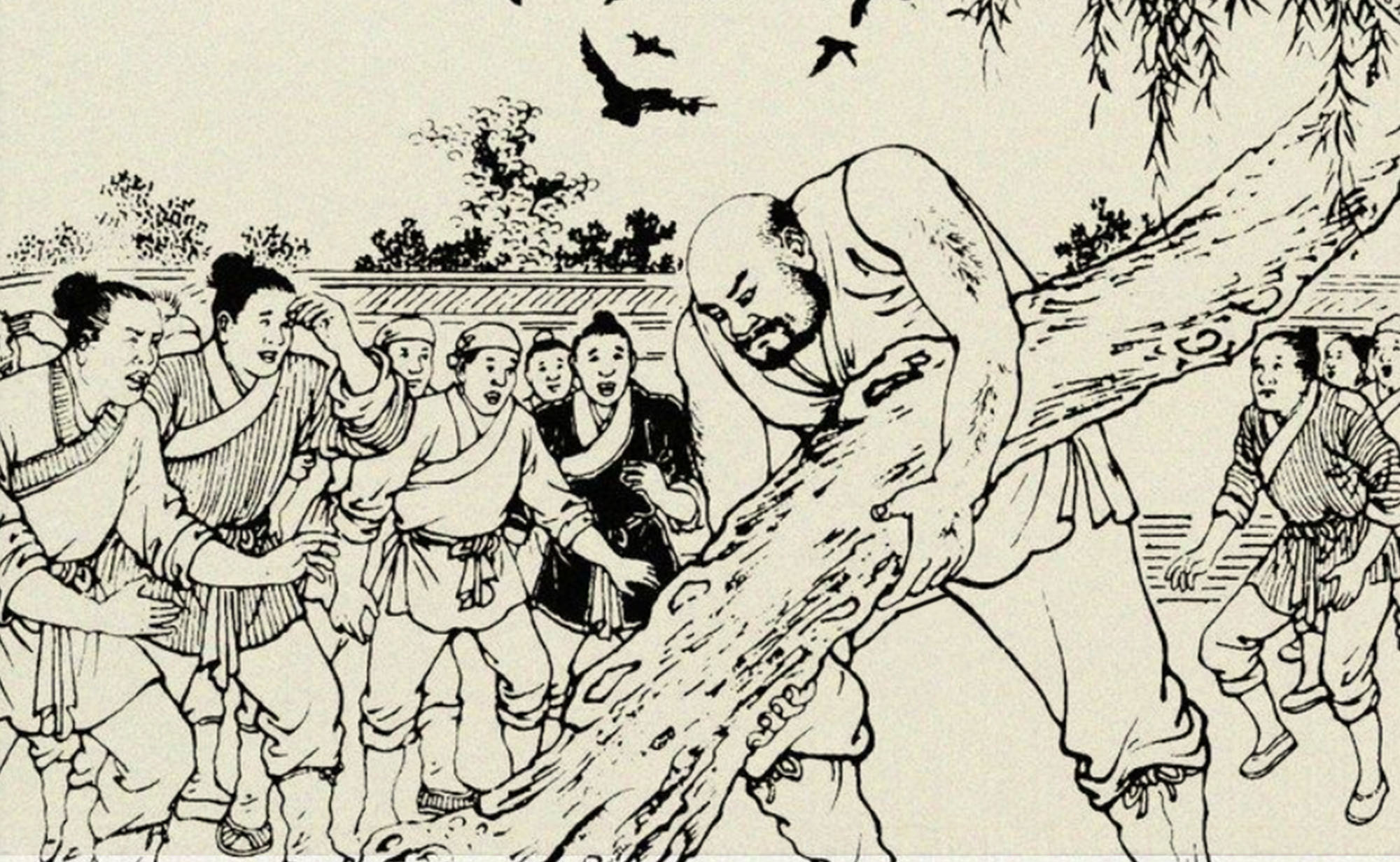 Get to Know: Colorful Characters from Outlaws of the Marsh
Outlaws of the Marsh is one of the greatest and most action-packed classics of Chinese literature. This historical fiction novel, written by fourteenth century author Shi Nai'an, tells of bandits who roamed China during the Northern Song Dynasty, some nine centuries ago.
From high and low, far and wide, 108 heroes of the day ended up together on Mt. Liang. Here's how a few of these complex characters got there. You might even recognize some from Shen Yun performances.
The Welcome Rain
Song Jiang, according to the novel, was a beloved county clerk renowned for his filial piety, benevolence, and generosity. So helpful a man he was, they nicknamed him "The Welcome Rain.&
Song's transformation from clerk to cutthroat began when an old couple and their daughter arrived in his village. The elderly father soon died, and the mother and daughter were left on the street. The case was brought before Song, who took pity on the two and arranged a proper funeral for the father and gave the pair enough money to sustain themselves.
Under the guise of gratitude, the mother offers her daughter in marriage to Song, who refuses but eventually gives in. Song buys his wife and mother-in-law a house and takes care of all their needs. Though married, he rarely paid his bride attention, remaining absorbed in his official duties.
One fateful day, Song invites his tall, handsome assistant over to his house. His wife falls for him instantly, and an affair springs up between the two.
Earlier, Song received a letter from a group of outlaws he had helped get out of trouble. It was a letter of gratitude, promising much gold as a thank you. Song refused the gold, but kept the letter as a sign of his friends' goodwill. He kept the letter hidden, for collusion with bandits was a capital crime.
One day, Song's cheating wife tries to steal from him and stumbles upon the letter. She then decides to publicize it as a way of getting rid of her husband and marrying her lover. As she prepares to again betray Song, a row ensues and he puts an end to her.
The mother and lover of the now dead woman expose Song, bribe all the local officials, and demand his execution. Song flees and appeals to his old outlaw friends residing on Mt. Liang. They gladly take him in and eventually crown him their leader.
The Tiger Fighter
Next we meet Wu Song, the iconic hero who beat a tiger to death with his bare hands while inebriated (the hero, not the tiger). Wu is also one of the more upright of these bandit characters.
His tiger story is well known and was the subject of a 2010 Shen Yun dance Wu Song Battles the Tiger (that you can watch on Shen Yun Zuo Pin). It goes like this:
Out on the edge of a forest lay a village that was being terrorized by a man-eating tiger. Wu was traveling on foot and just passing through the area when he got drunk and crossed the forest at night, ignoring literal signs telling him not to do it. The infamous tiger, detecting a snack, pounced on him, only to be pounded into oblivion with three punches. Near daybreak, as he stumbled out into the village on the other side of the forest, he (the man, not the tiger) was greeted by a group of trembling men who paraded him and the tiger body around town. Wu became instant legend.
But as the villagers praised his courage and strength, Wu humbly replied that it was because the people of the village had virtue that the gods helped them—he just simply played his part.
Soon, though, Wu would also get in trouble. Like Song and many of the other outlaws, his problems came about when—in the face of corruption and injustice—he took matters into his own hands.
Wu was visiting his older brother, an innocent and kind, but short and unattractive man. Somehow his wife, though, was a knockout. When she laid eyes on the tall and dashing Wu Song, she tried to win him over, but he dismissed her initial advances as the affection of a good sister-in-law. When he eventually saw through her game, he sternly warned her that if her treachery continued, he would make things mighty unpleasant.
Meanwhile, a wealthy neighbor had his own eyes on the brother's wife, and schemed with a conniving matchmaker to win her over. The two began their affair and, while Wu was away, killed his brother.
When Wu returned and got wind of the circumstances surrounding his brother's death, he exacted revenge with swift judgment. The punishment for adultery was execution, and the pair met their fate in his hands. He offered the heads of the adulterers in sacrifice to his brother's grave and fled the village.
Seeking refuge on Mt. Liang, Wu became one of the sworn brothers and made a name for himself in the many endeavors of the outlaws.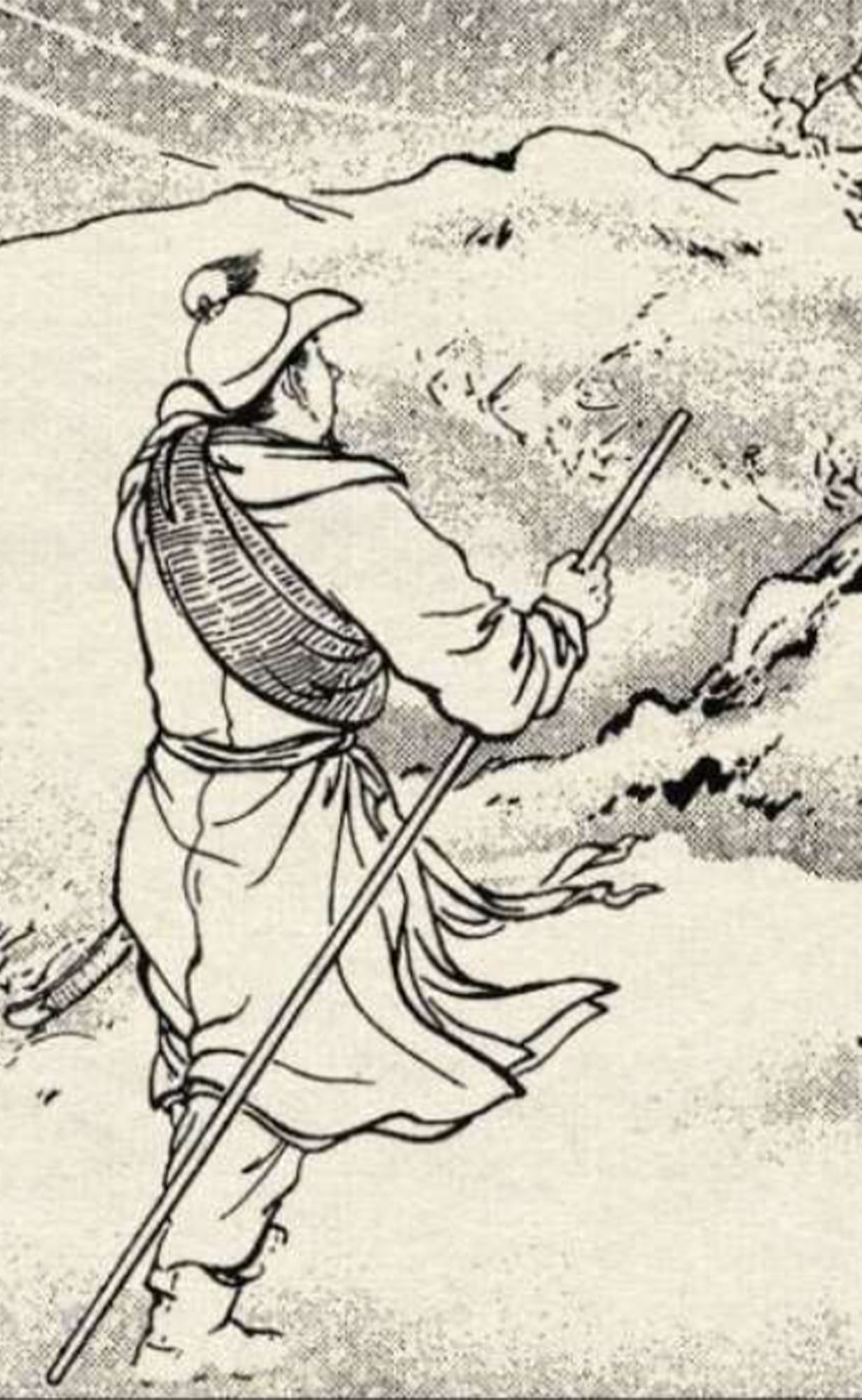 The Panther Head
Next we meet Lin Chong, a martial arts master in charge of training 800,000 imperial guards. Known as "Panther Head," Lin had all a man could want—respect in the capital, a happy marriage, and a fulfilling, peaceful life.
But during this period of Chinese history, there was much governmental corruption (luckily that's a thing of the past… um…) and Lin would soon meet his arch nemesis—an official named Gao Qiu. His name literally meaning "high ball," Gao Qiu was good for nothing except an ancient form of soccer, which endeared him to the emperor who promoted him to no end.
Gao Qiu's son, Gao Yanei, was a lecherous spoiled brat who pined for general Lin Chong's wife. She, being an upright woman, would not satisfy him. Parrying advance after advance, Lady Lin finally found herself backed into a corner and, eventually, decided to take her own life rather than be dishonored.
Meanwhile, attempting to get rid of Lin, the scum's father Gao Qiu set up an elaborate ruse and successfully framed Lin. He was banished to live in exile, and began his long journey there accompanied by burly escorts. These guards, though, were none other than assassins paid to finish him off…
Before we tell that story, we need to first meet another man.
The Drunk Monk
This good-bad monk whose ideals ran along the lines of 'hit first talk later,' Lu Zhishen stood out from among his peers like the eight-foot giant that he was. Besides possessing absurd strength, he was also a skilled martial artist and applied these gifts in pursuit of very simple justice.
Originally a minor county official, Lu finds himself in hot water after, again, taking the law into his hands. As the story goes, an unscrupulous butcher had mistreated a young lady. When she asks Lu to help her, he immediately goes to find the thug. With a few quick punches, Lu sends the butcher on a reincarnation trip, and flees to avoid the authorities.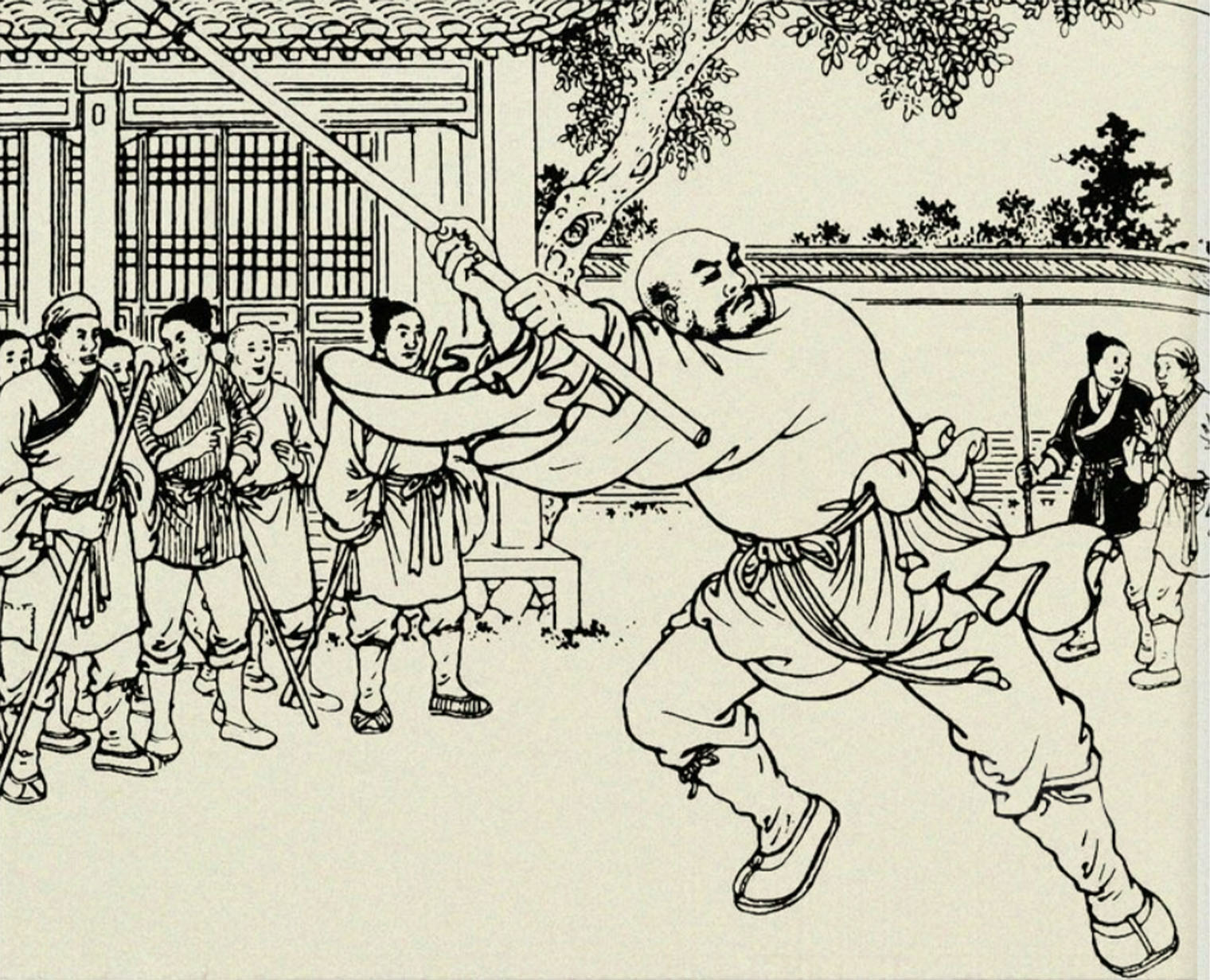 Following a recommendation from a friend, Lu scuttles over to a Buddhist monastery deep in the mountains, dons monk robes, and changes his hairstyle to bald. The change is not even skin deep, though, as Lu is reluctant to follow rules, constantly gets into fights, and becomes a fixture at local taverns. After yet another drunken rampage, the abbot realizes that this giant "monk" is more than he can handle, and kicks him out of the monastery.
Lu is placed in charge of a measly vegetable garden. Some local bullies try to attack Lu, who promptly reforms them with his heavy-handed tactics. At one point in the process he even uproots a huge tree with his hands for good measure.
An important item on his list of credits, Lu Zhishen starred in Shen Yun's 2023 dance story Monk Lu, in which his drunken antics complement his sense of justice.
Lu Meets Lin
Monk Lu soon goes wandering about when comes he across Lin Chong and the two quickly become sworn brothers.
Fast forward a bit, and now, as you recall, Lin is framed and being banished to the periphery of the empire. He has already been tattooed on his face to mark him as a criminal and his escort guards are on a secret mission to assassinate him en route to their destination. They lead him deep into a forest.
Just as they are about to finish the job, who jumps out from behind a tree but Monk Lu, who has been following them all along. Lu rescues Lin and gets rid of the assassins.
Lin, however, has resigned himself to his banishment and dejectedly continues on to his exile in Cangzhou.
Lin finally arrives at his outpost, where a wild winter is raging. His nemesis, Gao Qiu, has sent another group of cronies to this time get the job done. In the dark of night, they close in on Lin's hut for the final strike. It just so happened that the roof of his sorry shack had collapsed under the weight of the snow, forcing Lin to seek refuge in a nearby temple. Unaware that he isn't there, the goons advance and set the shack alight with their torches.
Watching from the temple as Gao's minions look on at the blazing hut and relish in their success, a desire for revenge consumed Lin's noble soul. Deprived of family, home, and now life, Lin flew out of the temple with a roar and disposed of the scoundrels.
Wiping the blood of his tormentors off his spear with his wife's handkerchief, Lin Chong wrote these words in blood on the fabled stone: "Forced Onto Mt. Liang" (逼上梁山, bi shang liang shan).
Shen Yun's 2015 dance drama Outlaw of Mt. Liang, depicts the story of Lin Chong and his eventual banishment (and can likewise be watched on Shen Yun Zuo Pin).
The Blue Faced Beast
Yang Zhi was one of the more hapless of our heroes, suffering from an acute case of bad luck. He was a descendant of the Yang clan, a famous family of warriors, and himself an accomplished martial artist who mastered all 18 forms of armed combat and swung the swiftest, sharpest blade south of the Great Wall.
This sabre was the Yang family heirloom, possessing almost mythical powers—it could cut through metal without dulling the blade, shred a strand of hair by blowing it across the sword, and kill a man without staining itself with blood.
Besides the sword, Yang's other trademark was a blue birthmark on his face, which earned him the nickname "Blue Faced Beast."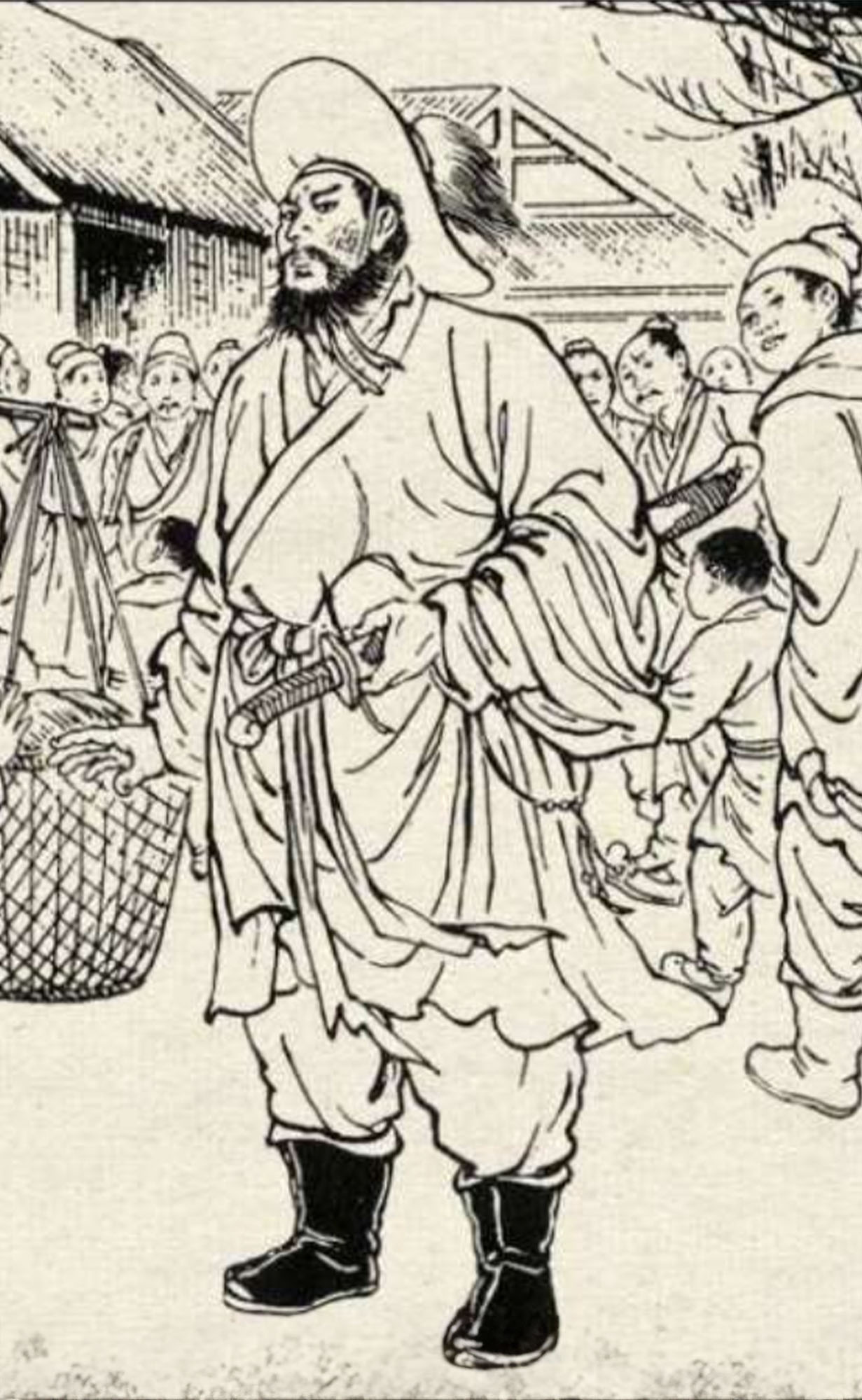 This swaggering soldier has his first unfortunate encounter with fate when he is charged with escorting imperial cargo but his ships capsize on the Yellow River. The ruined warrior drags himself before the court hoping for pardon, but is met with a cold rebuke and the scrapping of his position.
Soon, another official asks Yang to safely transport pricey gifts to the capital. Because of the perils of the journey, Yang chooses to haul the goods in broad daylight, when local bandits are less likely to prowl. The caravan treks under the scorching sun by day and rests at night, with the workers demanding midday stops and breaks. Yang pushes them onward, but at some point the workers refuse to carry on and stop in their tracks.
His hand forced, Yang allows his sweaty men a break. A wine merchant strolls by and the parched men beg to sample it. Yang is no stranger to tales of drugged wine and missing caravans, and so initially forbids it.
The "wine merchant," however, wins over the suspicious few by allowing them to taste a drop, which they deem harmless. Cash changes hands and the merchant begins ladling out the stuff. Yang, too, has a quenching drink. The catch? The sleeping drug was in the ladle, not the wine jug.
Yang wakes alone. The men and the treasure are gone. His laborers have given him the slip and run off to report him as a thief, avoiding any responsibility.
Our poor Yang stumbles into town with the only thing he now owns and sells it at a fraction of its worth for some traveling cash. The legendary sword of the Yang clan is now in the hands of street peddlers.
At some point in his wanderings Yang crosses paths with Monk Lu, who introduces him to the group on Mt. Liang and convinces him to join the brotherhood.
Interesting twist: The men who had ambushed the caravan and drugged the wine were also Mt. Liang outlaws and soon became Yang's sworn brothers.
Yang's story was vividly portrayed in Shen Yun's 2013 dance drama Yang Zhi Sells His Sword.
* * *
With 108 heroes and bandits, each with unique backstories and qualities, Outlaws of the Marsh provides a fertile ground for drama and dance adaptations. Which character will Shen Yun portray next?